With so stressful life and people having abundance of issues to fight with, there is hardly any way where we can find recourse to fight back. At these times we need people to support us and guide us. We may move to our Lifecoach and at the same time we can complement the support through some of the books which we can say as the inspiring life books. They will motivate us and guide us to our way for attaining destress from the given situation.
1. How to stop worrying and start Living.
Dale Carnegie
Anxiety is a real issue often left unaddressed. However, this book acknowledges every aspect of anxiety as a problem, how to live a stress-free and less-worried life. Worrying is the opposite of being happy and learning how to overcome worrying means learning how to be happy. This inspirational book by the well know motivation speaker and author Dale Carnegie is divided into 8 parts with several chapters. A heavy-hitting self-help classic, Carnegie literally taught us everything we need to know on the concept of worrying less and living more.
The Monk Who Sold His Ferrari.
Robin Sharma
Although this is a fable, and it's one that will certainly make you give some thought to your life, your goals, your dreams and how your daily habits help you reach those dreams. Robin Sharma, being a motivational and inspirational guru has quiet abruptly written this book giving the seven core virtue of life. The book takes the form of a fable about Julian Mantle, a high-profile attorney with a crazy schedule and a set of priorities that center around money, power, and prestige. The story is told from the perspective of one of his associates, who admires Mantle's great success and aspires to be like him. The Seven Virtues of Enlightened Learning, which Mantle reveals one by one took the form of fable. This book is followed by several other books with Julian Mantle as the central character and Robin Sharma really inspires you in this way.
3. Amazing Result of Positive Thinking
Norman Vincent Peale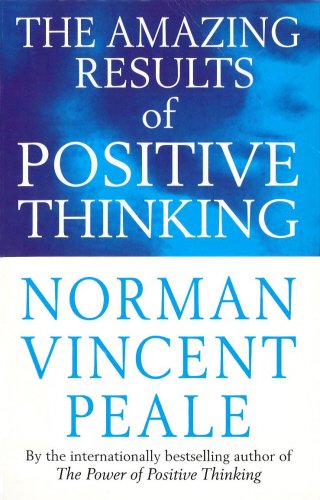 The Amazing results of Positive Thinking is a sequel of the foundation book The Power of Positive Thinking. Peale's optimism of the power of the human spirit to overcome challenges and achieve success is evident throughout the book. While it's debated whether the anecdotes in the book are fact or fable, it's of no matter. The stories illustrate how the power of positive thinking is the key to achieving a state of happiness and success. And it certainly beats the alternative. I know of very few if any people who have achieved a lasting state of happiness or success looking at life through a pessimistic lens. Peale's teachings help control that "inner voice" that talks to us all day long. That inner voice controls and determines our mood, our actions, and our overall outlook on life. The more we can train and control our inner voice, the better our chance at achieving the outcomes we desire. This book is a must-read for every student or professional looking out for ways to tame their wandering thoughts.
4. The Alchemist
Paulo Coelho
The Alchemist by Paulo Coelho is a wonderful story about an inspiring journey towards self-discovery. Mysticism and wisdom combine in this classic novel that has sold millions of copies worldwide. This story outlines the journey of a young shepherd boy who desires to travel the world in search of treasure but ends up discovering a vastly different type of riches than he initially imagined. Overall, this book encourages each of us to listen to our hearts, recognize our unique opportunities in life, and pursue our passions.
5. This is not a Story
Moinak Dutta
'This is not a story' tries to convey the message of self-love through every aspect which I think is quite important now. It is inspired by recent events and tries to give us all a closer look at society. It is well structured that provides a step-by-step guide on self-love, through various chapters. Though the story is unique, it takes up the issue of depression which is still considered taboo in our society. We all have faced our share of failure and setbacks in our lives and felt completely shattered by it, but still, we hesitate to even start a conversation on this subject. But through this book, the writer not only normalizes depression but also provides solutions to get out of it. It is an amazing book through examples of many famous personalities like Steve Jobs and Bear Grylls, Subhra teaches his son many lessons that will help him to live a better and happy life. One of the favorite chapter in this book is the one on 'Negativity', where Subhra talked about the human nature of focusing only on the negative no matter how good a person's life is going on at that particular period of time. It is true and I think most of us can relate to it as happiness and sadness is just a perception.