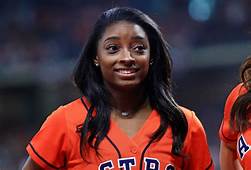 Simone was born in 1997. When she was 6 years old, her day-care group went on a field trip to a gym. Simone loved watching the gymnasts train and perform. She couldn't just watch them, though—she had to try their moves. She was so good that one of the coaches sent a letter home with her, inviting Simone to take gymnastics classes.
Simone Biles was a bright, bubbly, bouncy little girl. She couldn't sit still, and her favorite place to be was the trampoline in her grandparents' backyard, where she flipped and twisted in the air for hours. Any move her siblings could do, she could do too.
Several times a year, the gym held exhibitions to demonstrate the gymnasts' skills. At one of these, young gymnasts had to climb 10 feet up a rope, using just their arms and holding their legs straight in front of them. Simone was so strong that she climbed 15 or 20 feet into the air and had to be coaxed back to the ground.
The coaches could hardly keep up with Simone. When one girl performed a standing back tuck, Simone was sure she could do one too. Her coach didn't believe her, so Simone tried the trick and nailed it on the spot.
At 9, Simone learned why she couldn't sit still: She had ADHD (attention deficit hyperactivity disorder). Her brain moved fast and her body did too—which made it hard for her to concentrate in school but which also made her an amazing gymnast. "The challenges we face help define who we are," Simone wrote. "My challenge is also my superpower: ADHD." Simone's superpower would help make her one of the most dynamic gymnasts ever seen.
Simone is one of the greatest athletes in history. At age 16, she won two gold medals at the Artistic Gymnastics World Championships, including the all-around (the total score from competing in all events). She has now won 25 world medals, 19 of them gold. That's the most in world gymnastics history.
Simone competed in her first Olympics in 2016. She was the first female U.S. gymnast to win four gold medals in an Olympic Games. Since then, Simone has debuted moves never successfully done in competition, including a double-double dismount from the balance beam. The move became known as the Biles. Several signature moves have been named after Simone.
5 lessons to learn from the life of Simone Biles.
1. Don't get nervous, get to work.
Simone Biles trains 32 hours a week so it's no wonder she thinks of her gymnastics routines as her job. At the Rio Olympics there were millions of people watching and Biles was expected to take home the gold. She could have easily been overwhelmed by expectations. Instead, she focused on the task in front of her and stuck each landing.
After winning her second gold medal at the Rio Olympics she said, "I'm just the same, Simone… I feel the same. I just feel like I did my job today."
Lessons Learnt: Instead of putting pressure on yourself, just think of your routine as an awesome "job" you get to do. Like any job, in order to get the work done, you have to take things one step at a time.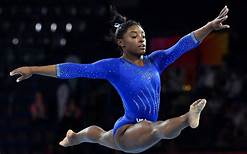 2. Get creative and think outside the box.
Simone Biles is known for her difficult routines that very few people can execute. Rather than settling for mastering what everyone else can do, Biles experiments and pushes the envelope. That's why she has three extremely difficult moves named after her, "The Biles".
The Biles is a double layout with a half-twist and a blind landing. Maintaining a layout position throughout the duration of two flips is tough work! Adding in a blind landing requires exceptional focus and control. But, coming up with The Biles didn't happen overnight. It took lots of creative play and practice.
Lessons Learnt: Have some fun and don't be afraid to get creative when you're training!
3. Build a team, and support your team members.
Team USA captain, Aly Raisman took time off after competing at the London 2012 games where she won two gold medals. Then, only two years prior to the Rio Olympics, she began intense training to compete again. During training, she formed a strong bond with her new teammate, Simone Biles.
This bond meant so much to Biles that after winning gold, She said, "I think I was more proud of Aly getting silver than me getting gold. She's worked so incredibly hard during her comeback, she's one of my role models."
       By building a strong bond with Raisman, Biles was not only able to celebrate her own success, but she was also able to share in the deep joy of seeing her friend make an incredible comeback of her own. It was a win-win for both team members.
     Lessons Learnt: Build bonds with your fellow worker and cheer them on. When you support their efforts, you're able to share in their happiness. And in turn, they'll be there to share in your happiness too.
4. Don't settle for last year's success.
Much like her Rio Olympics teammate, Simone Biles decided to take time-off after her own Olympic gold medal victories in 2016. When she finally decided to make her comeback in Columbus in 2018, she went all-in.
Instead of shaking off the rust and attempting to recapture the form that got her 4 Olympic gold medals in Rio, Simone Biles wanted more. In her first competition back, she attempted more complex routines than she ever had before.
In fact, her routines were so much more difficult than her opponents that she was still crowned the all-around champion, even though she had a fall on the bars, a step out of bounds on the floor, and an imperfect landing on the vault.
Her performance in Columbus proves that champions shouldn't sit in their comfort zone; they should push for more.
Lessons Learnt: When you push yourself to continue learning, great things can happen. Even if you struggle to perfect new skills, your efforts will be rewarded with personal growth.
5.  Feel confident, inside and out.
When Simone Biles was young, she used to wear sweaters all year round to hide her muscular arms. Now, she says she's learned to love her body even though she jokes that she's " stuck" under 5 feet tall.
Body image issues can zap a gymnast's self-confidence. For some, learning to be confident in your own skin may not happen overnight but when we commit to loving who we are, we allow our confidence to grow. Like Biles, when we become more confident in the way we present ourselves, we can thrive in the sports and activities we pursue.
Learning Lessons: Improving your self-esteem and the way you think about your body is an important part of development. The confidence you gain when you develop your self-esteem is applicable to all other aspects of life.