Born in 1954 in a poverty ridden family of South Mississippi, Oprah had a very tumultuous childhood. She was born into a separated family; her parents were never married or together throughout her lifetime. She was sexually abused from ages nine to thirteen. She was very quiet about the situation; she was afraid of the outcome. Her cousin who had abused her threatened that if she told anyone, he would kill her. She suffered many physical and emotional effects from the ordeal. Nevertheless, she refused to give up on herself and she kept fighting.
Oprah ran away numerous times because she wanted to escape all of her problems, but she was always found quickly by local police or by her father. Unfortunately, she received horrifying news when she was fourteen years old. Oprah found out she was pregnant but she lost the baby in the minutes it was born.
Her Life changed after she graduated high school. She received a full scholarship to the University of Tennessee. This was huge for her, because her parents could not afford her education. At college, she majored in Speech Communications and Performing Arts. That is why she is very fluent with her speech and knows what to say at certain times.
Oprah graduated from college after four years of attending the university. Amazingly, her first job offer was a new anchor on the 6 o clock news. Two years later, she received another job as a co-host for Baltimore's WJZ-TV's "People are Talking". It kept getting better for Oprah when she got a third job offer on the show A.M Chicago. One month after she started appearing as the new talk show host, it became the number one talk show in the Chicago market. Since it was so successful, one year later the show was renamed "The Oprah Winfrey Show".
Summary of lesson from Oprah's life
Live Your Dreams
Through the struggle of her life, She had taught us how important it is to live your life. Even after such a tumultuous childhood and after all her suffering She never stopped dreaming as such by the age of 19, She had already won a beauty pageant, landed a job in radio and was co-anchoring the local evening news. Her intensely emotional and extempore speech deliveries and extra-ordinary ability to communicate made a huge impact and soon saw her interviewing scores of people on several major broadcast channels. 
2 . Face Adversities Head-On!
She believed in the principle of "You get in life what you have the courage to ask for." Born to a house-maid, and brought up in abject poverty, molested as a child, subjected to rape and pregnant at 14, Oprah's childhood reads like a horror story. Coming from such a background, Oprah fought back with determination, learning to read at age three and discovering that there was a whole world out there which could be so much better than what she lived in. 
3.Live on today and let the Past go by:
In the three decades of her show, Oprah always exhorted women to let go of their past and to get moving to make the change they wanted in their lives – to fully live in the present. Having seen the worst of life, she was always optimistic and refused to be cowed down by obstacles.
4. Do Not Fear Failure
Oprah had seen lot of adversities in her life. Be it physical or mental. She had to work in a world pre-dominated by white males. She used every failure as a stepping-stone to success, undeterred by harassment and sexism, which she too had to face in her life at some point or the other. She never felt the need to follow norms or be in agreement to everything to please anybody.
5.Taking Risk
It is a well known fact that where there is no risk, there is no gain. Just like any great leaders, Oprah had always taken risk and came out of her comfort zone too reach where She is today.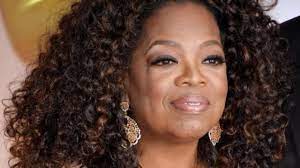 6. Accepting Yourself.
The story of her life truly reflects her attitude toward her life and it inspires us to be ourself with what we are. We should neither try to be or pretend to be like somebody else.
7.Working Hard.
The most important thing that we learn from her life is that there is no shortcut to success and one have to work hard to reach the goal one need. Oprah never believed that luck would simply happen. Considering the billions of dollars that she has made; it is apparent that she has really worked hard for it. She is constantly working, analysing, improvising and diligently persevering to use her talent to be of the best service to life and mankind.
8.Turning negatives into Positives
There's no escaping negative aspects in life sometimes.
You're likely to experience some sort of failure if you're trying to achieve something fairly difficult. Building a business is incredibly hard work and I'd be surprised if you nailed everything perfectly first time. You need to be able to turn these negative issues into positives. In other words you need to be able to take your failures or mistakes and learn what you can from. In order to stop them from happening again.
9.    Surround Yourself with Those you Wish to be Like
It's a true fact that the individuals you spend the most amount of time with, you become like. You start to think like them and do the same things as them, since you're hanging out with them. So if their habits, thoughts and weekly activities are destructive to what you're trying to achieve you will struggle. Go out and meet new people who have the same goals as you. They're the ones working hard and trying to adopt the same productive habits you have. So you will benefit greatly from spending your time with them.
10 Focus on Helping Others
When you start doing things for yourself then the far reaching output from the same may harm you. It is the reason why far too many businesses are only in it for themselves and are not really interested in helping others or satisfying any of their needs. Oprah set out to help others as well as build a profitable business for herself, and by setting out to help others, she benefited herself. It's important to focus on the needs of others, and in particular in business, your potential customers. Products that solve a problem or need that others have are far more popular for obvious reasons, in comparison to those that they may just want.