Hollywood movies can inspire us? It's no secret that life gets us down sometimes. We all need inspiration, and we look for it in different ways. Some people seek religion, some read stories or self-help books, and some seek motivation from other mediums like music or even video games or hollywood movies.
Going through a stage in life where you are feeling unmotivated and uninspired can be quite difficult. There will be times when you notice that you have run out of inspiration and it almost always seems as if there's nothing you can do about it. Luckily, this is not really the case. There are many wonderful things you can do to boost your inspiration quickly.
Unfortunately, it cannot be avoided to run out of inspiration from time to time. Sometimes, it may even feel as if the last drop of inspiration within you has dried up. Understandably, coming to the realization that you are struggling to get inspired can be quite painful. In fact, it's especially difficult when you need to accomplish a task that requires creativity. As a result of lacking the necessary excitement it takes to tackle your responsibilities, you might begin to procrastinate, which makes things even worse.
However, there are two activities that are by far more powerful tools of inspiration and never lacks the inspiration level than any other tools. The first inspiration-boosting activity is to listen to  inspirational songs second thing you can do to massively boost your inspiration levels is to watch inspirational hollywood movies.
"Inspiration is a guest that does not willingly visit the lazy."
Pyotr Ilyich Tchaikovsky
Team Inspiring Life provides you with a list of 5 hollywood movies that would inspire you in various sphere of life.
5 hollywood movies to inspire and motivates you.
1. Forrest Gump.
A 2010 hollywood movies, Starring Tom Hanks, this is a movie about a simple-minded man who does extraordinary things. It tells the beautiful tale of a simple-minded man whose kindness and good-heartedness makes him perceive life quite differently than those around him. Forrest Gump is a man who sees the beauty of life despite all its challenges. His optimistic attitude enables him to accomplish a great number of astonishing things in his life that others would not even dare dream of. In short, it's a beautiful movie that shows you that you can accomplish anything in life, as long as you are determined enough and as long as your heart is in the right place.
2.  Life of Pi
A 2012 hollywood movie, starring Irfaan Khan, shows the protagonist stranded in the Pacific Ocean with nothing but water around you is a horrible scenario. But things are even worse if there's a Bengal tiger in your life boat. "Life of Pi" is exactly about such a scenario. It tells the inspiring story of Pi who is the only (human) survivor of a shipwreck. The story is told in a visually stunning way and really makes you think about your life.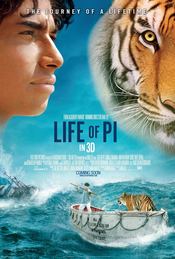 3. The Shawshank Redemption.
A 1994 hollywood movies, starring Tim Robbins, shows that life is not always fair. Sometimes, it makes you go through great difficulties that are not even your fault. What is worse, you may find yourself in a situation that you cannot change, no matter how hard you try. "The Shawshank Redemption" tells the inspiring story of Andy Dufresne, a man who's wrongfully convicted. Even though he's sentenced for life, Andy Dufresne decides to make the best of his situation. The message of the movie is highly inspiring. It shows you how important it is to never ever give up, no matter how difficult things seem to be.
4. Erin Brockovich
A 2000 hollywood movie, starring Julia Roberts, though the message of this movie is quite simple, it is still astonishingly powerful. The movies all about standing up for what you believe in. "Erin Brockovich" will inspire you to fight for what you believe is right.
5. A Beautiful Mind
A 2001 hollywood movies, starring Russel Crowe, is a biography of an award-winning and ingenious mathematician who struggles with his mental health. The powerful and inspiring message of this movie is that you can succeed in life – even when you're confronted with overwhelming obstacles. If you have the willpower and the necessary focus it takes to overcome everything that stands in your way, you will succeed.