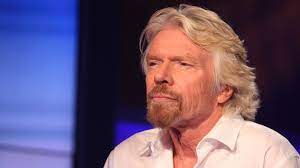 Richard Branson born on July 18, 1950, was a school dropout, entered into his first successful business venture as a teenager with the magazine Student. When the magazine began losing money in the late 1960s, he formed Virgin Mail Order Records (so named because Branson considered himself inexperienced in business) to raise funds, and in 1971 he opened the first British discount record store. In 1973 he helped form, Virgin Records which quickly became the principal label worldwide for punk and the new wave.
In 1984 he became the majority backer of the airline that he renamed Virgin Atlantic Airways. Beginning with a single aircraft, the carrier succeeded despite fierce opposition from established airlines, and in 1992 Richard Branson sold Virgin Records to raise additional money for Virgin Atlantic.
By the 1990s the Virgin conglomerate, which was among the largest privately held companies in the United Kingdom, comprised some 100 businesses, including Virgin Megastores. In 2004 Branson formed Virgin Galactic, a space tourism company that was working toward offering commercial suborbital passenger flights.
In 2006 Richard Branson sold Virgin Mobile, a wireless phone service, though he remained the largest shareholder of the company, which was later renamed Virgin Media, Inc. That same year he formed the collaborative entertainment companies Virgin Comics LLC and Virgin Animation Private Limited.
In 2021 Branson made a suborbital spaceflight in a Virgin Galactic spacecraft.
The life of Sir Richard Branson has taught us various lessons to learn from:
5 Lessons to learn from the life of Dr Richard Branson
1. Enjoy What You Do.
If you want to be successful at anything, enjoy doing it. This is the same for business. Sir Richard Branson teaches us that if you enjoy doing business, then you will become better at it. This makes you even more successful in your enterprises. If you find that initially, you are not so excited about your business, don't worry. You can learn how to enjoy it over time. Take steps to do this and you will be immensely grateful to yourself in the long run.
2. Learn by Doing
You may have heard this from a teacher. It may not have been the direct quote, but the message is still the same.
The best teacher is an experience that you'll get from learning. Branson believes in making your own mistakes, failing, then correcting them.
The quickest way to fix your mistake is to fail and get back up and try it again until you get it right.
You can have someone help you or even try to study the outcomes. At the end of the day, actions will teach you.
3.  Set Tough Challenges for Yourself.
When you go to the gym, you have an image of yourself in your mind of how you want to look. You might want bigger arms or six-pack abs.
When you look around the room, others are there to achieve similar goals. However, very few attain these goals.
You can't look to other people though. You have to keep it clear that you were who you were yesterday but today is a new day.
Set your goals to that unattainable level. This gives you the chance to see just what you can accomplish even if it's not the highest one. Eventually, you will reach that goal as your progress.
4. Don't Stress
When we face a problem, we often panic or worry about what we can or will do. If you speak with a friend, they'll tell you to relax or calm down.
Stress and worry don't make the situation any better.
In fact, it drains your energy and could even make you sick. Many times, we worry about things we can't control or fix.
Some aren't worth the effort to worry about. Branson teaches entrepreneurs to stop worrying and to live your life.
5. Try to Think Laterally
For most businesses, the sky is the limit. However, your business can grow in more directions than just upwards. Sir Richard Branson used his magazine to get into the business of selling records. This got him enough capital to start a record label and buy a studio. After that, he also purchased a nightclub. He invested his money in complementary industries.
This helped his business to grow laterally. His enterprises complemented each other because it was much easier for him to promote his artistes through his own magazine, record shops and nightclub. Find complementary industries or situations in your life and invest your time and money in them.