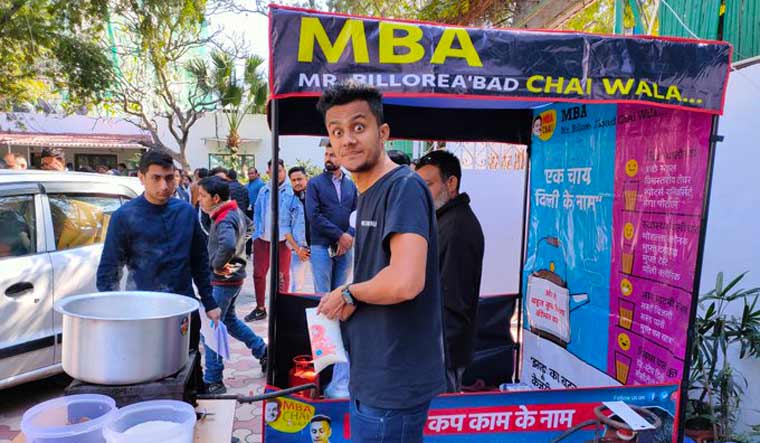 Success Story
How Prafull Billore, successful non-MBA chaiwallah success story provides us with 10 learning lessons?
Prafull billore-
A Story of a Chaiwallah
       Lessons to learn from his success story.
This is a series where the readers will able to get themselves engrossed with the out of the box stories of todays youth and individuals who had achieved their goal in life despite all odds in their life. Many of them are not celebrity or may not be a person who made the headlines. They are the ordinary individuals who made difference in their life with their own guts and attitude. They faced the odds just but stood firm like a banyan tree. Every individual story would provide you with a different set of motivational background and inspire you to attain your goal in life.
This story is nothing less than a film script, the protagonist in this story would provide you with all the motivation and inspiration to increase your business. The story of Prafull Billore helps you to gain the wisdom of how to convert your business ideas in to full grown business. When lot of ruckus was created over creation of self-employment by selling pakodas by the youth. During, that time this youth has proved that even selling chai (Indian Tea) in the street can become a billionaire by following his own passions.
         Born in a middle class family, Prafull was a mediocre student and was pursuing his studies for MBA. CAT, GMAT and every other thing that could take him to the top business school. He was pursuing the dreams of his parents, specially his father who wanted him to pursue MBA and do something great in his life. He at any point did not have much craze for the same, he was doing it only for the sake of his father's dream.
         Finally, as the turn of events has to happen in his life, he failed to clear CAT and to get enough percentile to join the best B-school. Totally broken, distraught and depressed he thought of travelling to the various parts of the country. He went to different cities not knowing what to do next, unplanned and undecided he finally settled up in Ahmedabad, but he has to do something yes something that would help him to live a life of his own. What he did, he started working in Mc Donald. He used to work as cleaner, picked up the plate but with his dedication he got promoted and he used to take orders and also make burgers.
   While working at Mc Donald, he finally decided that he can sell tea. He founded a location, there he started selling tea. With first day no sell to slowly the sale increased and he started to gain profits and name. But then he had to bow before the business jealousy and rivalry, he had to move away from the place. But he could not sleep, the passion of selling tea and networking  with his customer was so intense that he could not stay that way for long and finally he restarted his business at a new location with a name Mr Billore Ahmedabad (MBA) Chaiwallah and today he is there, an MBA drop out as he had joined a MBA course in local college in Ahmedabad but came out of the running class in just 7 days, becoming a success case study for new MBA aspirants.
 There was lot of talk about the name of his brand. The people used to talk about an MBA dropout and a failure, a bad name for his family. But there he was, earning and reaching his milestone with passion. A Crorepati in the making who run his dream.
 That's life and that is inspiring.
How you get inspired from the life of Prafull Billore?
Pursue your dream with passion you will get it and with a bang.
Don't follow the already followed path but move on the road less travelled (theme of Inspiring Life)
Create your networking because it's your network that works for you.
Own your dream and work for it, nobody will own the same for you.
Don't get distracted with the negative forces, just do your job.
Create something different in your work and understand what your client wants.
Just love the work you do.
Don't need to get inspired from others be an inspiration yourself.
Don't be frustrated from failure, take it as an experience.
Don't pay heed to what others says just go ahead with your dream.