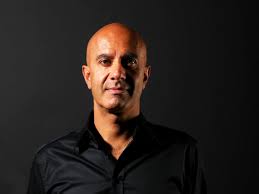 Quotes
31 quotes of Robin Sharma to attain Success.
Robin Sharma is a Canadian author of Indian origin, internationally acclaimed as a motivational and leadership speaker. He was born on June 16, 1964, to Indian (Kashmiri) parents Shiv Sharma and Shashi Sharma, in Uganda.
His family moved to Canada when he was a year old. His mother is a teacher, and his father is a physician who set up his practice in Toronto. He has a younger brother, Sanjay, who is a well-known eye surgeon in Canada.
   Robin Sharma is a lawyer by qualification. He attended the 'Schulich School of Law' at the 'Dalhousie University.' There, he completed his LLB and LLM. 
While working as a lawyer, he could not brush off his desire to write. Motivated by his father, Sharma wrote his first book, 'Megaliving: 30 Days to a Perfect Life,' in 1994. According to the writer, the book was motivated by the emptiness he felt in his work as a litigation lawyer. The book was edited by his mother and self-published in 1995. However, it did not see any success.
       Robin  Sharma did not give up on his dream despite the failure of first book, which later paid off in a huge way. His second book, 'The Monk Who Sold His Ferrari,' was initially self-published but was later picked up by 'Harper Collins Publishers' after a chance meeting between Sharma and Ed Carson, former president of the publishing house. The book became an international sensation  his second book, 'The Monk Who Sold His Ferrari,' and came to be  known as a writer with a deep understanding of life. 
    Robin Sharma holds the sixth position on the list of the 'Global Gurus Top 30 Leadership Professionals' of 2019. He has a huge social-media presence, and he reaches almost 600 million people every year through his podcasts, 'YouTube' videos, and 'Facebook' posts. He has been the greatest motivational guru and power performer of all time.
    Team Inspiring Life provides you with 31 quotes of Robin Sharma.
31 quotes of Robin Sharma for success and leadership
You are born into genius, but have you resigned yourself to mediocrity?
Great achievement always requires great sacrifice.
Take the stones people throw at you and use them to build a monument.
When we stop taking risks, we stop living life.
Make your faith larger than your fears and your dreams bigger than your doubts
Be slow to criticize and fast to appreciate
Dream big, start small, act now.
Victims make excuses. Leaders deliver results.
Hard times produce your greatest gifts.
Fear is a big liar.
Are your fears standing in the way of your biggest life?
The way we do small things determines the way we do everything.
Become one of the rare people who don't know how to quit.
The fears we don't face become our limits.
Your daily behavior reveals your deepest beliefs.
The beautiful thing about fear is, when you run to it, it runs away.
The beautiful thing about today is that you get the choice to make it better than yesterday.
Your life is too important to give it to distractions.
Picasso didn't wait until he was Picasso to perform like Picasso.
How can you cross new bridges if you're not willing to burn old ones?
Stop managing your time. Start managing your focus.
Persistence gets you farther than brilliance.
Shatter all fears.
You were born awesome.
If you're not scared a lot you're not doing very much.
Ideation without execution is delusion.
Once you slay one fear you'll conquer many fears.
The secret to productivity is simplicity.
Greatness on the outside begins within.
Be the CEO of your life.
If you don't act on life, life will act on you.