It is believed that Nikola Tesla was born in a time of lightning storms he was having a photographic memory. He was smart enough to memorize books, images, and even 3D structures. As a teenager, he contracted cholera. For over 9 months, he was bedridden for 9 months and had almost died.
In college, he became fascinated with electricity. He moved to the US in 1884 to work for the famous inventor Thomas Edison. Life had been a difficult for him at many phases, he has been cheated, duped and had been betrayed several times.
      When Nikola Tesla first went to work for Edison as a new immigrant to the United States, Edison promised him $50,000 if he could improve the running of his direct current electrical plants. When Tesla succeeded, Edison laughed and said that Tesla didn't understand American humor, offering him a meager salary bump instead. Tesla promptly quit.
Again, some years later he demonstrated radio transmission but a fire destroyed his lab as he prepared the first real radio signal. Marconi then took his ideas and his technology to win the Nobel Price. Tesla was inflamed, especially when he found out, Marconi had received all his financial support from his old rival Edison.
    Finally, court invalidated Marconi's radio patents because they were based on Nikola Tesla's work. Justice finally prevails, true, but unfortunately it happened two years after his death. He once didn't even sleep and worked for continuous 84 hours. He spoke eight languages. and filled more than 300 patents and finally died in his room on January 7, 1943.
10 lessons from the life of Nikola Tesla
1. Have faith upon yourself.
It is a fact that Tesla has been subject to lot of struggles through out his career. He has been cheated by none other than Edison and Marconi. Inspite of this, Tesla had done patent for 300 inventions and has brought electricity in America.
2. Pursue your Dream.
Nikola Tesla loved science, in particular electricity and had a dream lighting the whole world. He had struggled but it was his creations that finally the electricity could be seen and viewed from this perspective.
3. Don't care in what others are doing.
"I don't care they stole my ideas. I pity that they don't have their own". These words by Tesla teach us a lot. There are billions of people in this world. How many people can you stop stealing your ideas?. With how many people will you compare your progress? You can compare it with your friends, your colleagues and become "The Best". But then what? There are still uncountable people out there in this world who will be better than you.
4. Have Patience.
"The scientific man doesn't aim at an immediate result. He does not expect that his advanced ideas will be readily taken up. His work is like that of a planter – for the future. His duty is to lay the foundation for those who are to come, and point the way."
It takes days, months, or even years for an artist to get his colours right, for a poet to write his poem and a scientist to develop his theories. Don't worry about how long it takes. Just keep working.
5. Don't Fear Failure.
"Our virtues and our failings are inseparable, like force and matter. When they separate, man is no more" ~ Nikola Tesla
These words of Nikola Tesla teaches us that life is incomplete without failure as such we must not fear failure and rather pursue our work in more dedication learning lessons from the failure.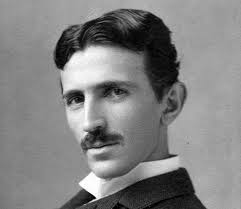 6. Do the work you love.
"When natural inclination develops into a passionate desire, one advances towards his goal in seven-league boots." ~ Nikola Tesla
Do the work you love, it will then be developed in to passionate desire and would ultimately take you towards your goal in high level boot.
7. Don't ignore your instinct.
"Instinct is something which transcends knowledge. We have, undoubtedly, certain finer fibers that enable us to perceive truths when logical deduction, or any other willful effort of the brain, is futile." ~ Nikola Tesla
Don't ignore your instinct, if you have an instinct and a strong desire that you are going on the right direction, then just trust it. Sometimes instinct can be better than logic.
8.  It's Perfectly OK To Be Ahead of Others
Don't be afraid to do something new, something different. Your peers may tell you that your ideas won't work, you might feel jaded or have the notion that giving up is easier than trying to convince those around you that you are right. Tesla's life reminds us that it's perfectly OK if people don't accept your ideas. Every revolutionary idea has faced strong opposition from prevailing theories and beliefs.
9. Money Isn't Everything
Tesla's fame might force you to think that he was a rich person. He might have sold his patents and earned a handsome sum of money from them. Unfortunately, that's not the case. Nikola Tesla never cared about being rich. All he cared about was making the world a better place to live. When you think about the world instead of your personal comforts, you do justice to society. He had quoted, "All my money has been invested in experiments with which I have made new discoveries enabling mankind to have a little easier life."
10.  Be positive and live a meaningful life.
Throughout his childhood, he went to great lengths to make his father and family happy by following a diverse number of studies outside his true interests that were engineering, physics, mathematics, etc.
Even though he had a lot of health issues before he got to do his "real work," he always knew what he had to do and never wavered from that. After almost dying from cholera in 1873, he and his father decided to finally go towards engineering, physics, and math.
He focused on doing what his mind imagined and wanted to do and had the best of intentions, letting go of what happened afterward. Such a beautiful lesson.
Convention will always seek the status-quo. That's actually the definition of convention. If you wish not to bother it or don't go too far from it, you'll never be able to see the full potential of your gifts. It's an inherently high-risk, high reward strategy, but for those ones that are capable of that, there's no other real option outside of doing this.