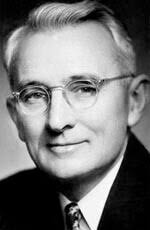 Quotes
Which Dale Carnegie's 31 power quotes that will help you to attain success?
Dale Carnegie was an American writer and lecturer who developed courses in self-improvement, salesmanship, public speaking, and interpersonal skills.
Best known for his 1936 bestseller How to win friends and Influence People, Carnegie was born into poverty. Carnegie enjoyed public speaking at school and went on to graduate from Warrensburg State Teachers College in 1908.
By 1911, he was living at the YMCA on 125th Street in New York, where he persuaded the YMCA manager to let him teach a course on public speaking in return for 80% of the proceeds.
In his first session, he ran out of material. He improvised, telling students to speak about something that "made them angry." He discovered that doing so made speakers unafraid to address their audience. From that point on, the Dale Carnegie Course evolved and thrived on the average American's desire for self-improvement and self-confidence.
Dale Carnegie learned to accept the worst that can happen, then proceed to improve on the worst. His own experience was the source for his bestselling books: "Public Speaking and Influencing Men in Business" and "How to Win Friends and Influence People" (1936). The latter book had 17 printings in the first year. He also wrote "Lincoln the Unknown," a biography of President Abraham Lincoln. Carnegie developed famous courses on self-improvement, salesmanship, and corporate training programs, as well, as programs for improvement in public speaking skills and interpersonal skills.
Over 50 million copies of Dale Carnegie's books were sold worldwide, translated into about 40 languages. In the late 1950s Soviet leader, Nikita Kruschev visited America with top Soviet experts for learning and use the most efficient American business techniques in the Soviet government. Carnegie's books were then translated into Russian for exclusive use by the privileged leadership of the Soviet Communist Party and the KGB. Carnegie's books were disallowed to the general Russian public until 'perestroika' reforms were initiated by Mikhail Gorbachev..
His training and books still inspire people all over the world to be more confident and go after their dreams. We hope these amazing Dale Carnegie quotes to inspire you to go after yours too!
31 quotes by Dale Carnegie
It isn't what you have or who you are or where you are or what you are doing that makes you happy or unhappy. It is what you think about it.
Develop success from failures. Discouragement and failure are two of the surest stepping stones to success.
No matter what happens, always be yourself.
Don't be afraid of enemies who attack you. Be afraid of the friends who flatter you.
One reason why birds and horses are not unhappy is because they are not trying to impress other birds and horses.
A man convinced against his will is of the same opinion still.
If you are not in the process of becoming the person you want to be, you are automatically engaged in becoming the person you don't want to be.
Our thoughts make us what we are.
Names are the sweetest and most important sound in any language.
The expression one wears on one's face is far more important than the clothes one wears on one's back.
If you want to gather honey, don't kick over the beehive.
Control your temper. Remember, you can measure the size of a person by what makes him or her angry.
If you want to keep happiness, you have to share it.
If you can't sleep, then get up and do something instead of lying there and worrying. It's the worry that gets you, not the loss of sleep.

The successful man will profit from his mistakes and try again in a different way.
You can't win an argument. You can't because if you lose it, you lose it; and if you win it, you lose it.
When fate hands you lemons, make lemonade.
Winning friends begins with friendliness.
Let's not allow ourselves to be upset by small things we should despise and forget. Remember 'Life is too short to be little.'
Our fatigue is often caused not by work, but by worry, frustration and resentment.
You'll never achieve real success unless you like what you're doing.
We all have possibilities we don't know about. We can do things we don't even dream we can do.
Instead of worrying about what people say of you, why not spend time trying to accomplish something they will admire.
Only knowledge that is used sticks in your mind.
By fighting you never get enough, but by yielding you get more than you expected.
Nothing can bring you peace but yourself.
Be wiser than other people if you can; but do not tell them so.
People rarely succeed unless they have fun in what they are doing.
Take a chance! All life is a chance. The man who goes farthest is generally the one who is willing to do and dare. The sure-thing boat never gets far from shore.
The essence of all art is to have pleasure in giving pleasure.
First ask yourself: What is the worst that can happen? Then prepare to accept it. Then proceed to improve on the worst.