Success Mantra
How to spot toxic people in your life by identifying these 5 common nature?
Toxic people are everywhere – they're hiding at work, in baby groups, in cafes, even in your own family – just waiting to cause havoc in your life. But how can you spot a toxic person? And how do you minimise their damage?
We've all come across them at one point or another in our lives. The colleague who seems to have it in for you, the friend who always has a drama they want to involve you in, the difficult neighbour, or the family member who wears you out every time you see or speak to them.
What all these people have in common is toxicity – they are unpleasant, draining and just hard to spend time with. Like a poison, they do nothing to enrich your life and career, or make it any easier or more successful.
"People inspire you, or they drain you—pick them wisely." – Hans F. Hansen
Toxic people defy logic. Some are blissfully unaware of the negative impact that they have on those around them, and others seem to derive satisfaction from creating chaos and pushing other people's buttons.
As important as it is to learn how to deal with different kinds of people, truly toxic people will never be worth your time and energy—and they take a lot of each. Toxic people create unnecessary complexity, strife, and, worst of all, stress.
Studies have long shown that stress can have a lasting, negative impact on the brain. Toxic people don't just make you miserable—they're really hard on your brain. The ability to manage your emotions and remain calm under pressure has a direct link to your performance. One of their greatest gifts is the ability to identify toxic people and keep them at bay.
It's often said that you're the product of the five people you spend the most time with. If you allow even one of those five people to be toxic, you'll soon find out how capable he or she is of holding you back.
You can't hope to distance yourself from toxic people until you first know who they are. The trick is to separate those who are annoying or simply difficult from those who are truly toxic.
Team Inspiring Life provides you with a list of 5 common nature of toxic people to spot them on your life as a first part. In the 2nd part we will provide you with a list of specific toxic people.
5 Common nature of toxic people to spot them in your life.
1.  They're selfish
Toxic people are so busy thinking of themselves that they'll rarely show any concern for others. Their communication setting is usually stuck on broadcast and they'll happily talk for hours about themselves without being interested enough to spare one question for you.
And it's not just their conversation. Toxic people genuinely have no concern for your feelings, and feel no need to take them into consideration. And worryingly, this often demonstrates itself in control. They care about how they feel, what they want to do, what their needs are, and will happily manipulate you to ensure they're met.
2. They never have a nice word to say about others.
It's easy to find things about pretty much everyone that annoy us (just as others can easily find faults in us). But most of us have far more good points than bad, and it's not difficult to focus on these.
Unless of course you're a toxic person. There's a fine line between harmless gossip and bitching, and a toxic person is happy to cross it – they rarely have a good word to say about anyone.
So if you ever come across someone who is happy, even gleeful, to run other people down, be careful. Don't allow their words to inform your opinion, and watch what you say about others. The chances are that they're saying just as spiteful things about you when your back is turned!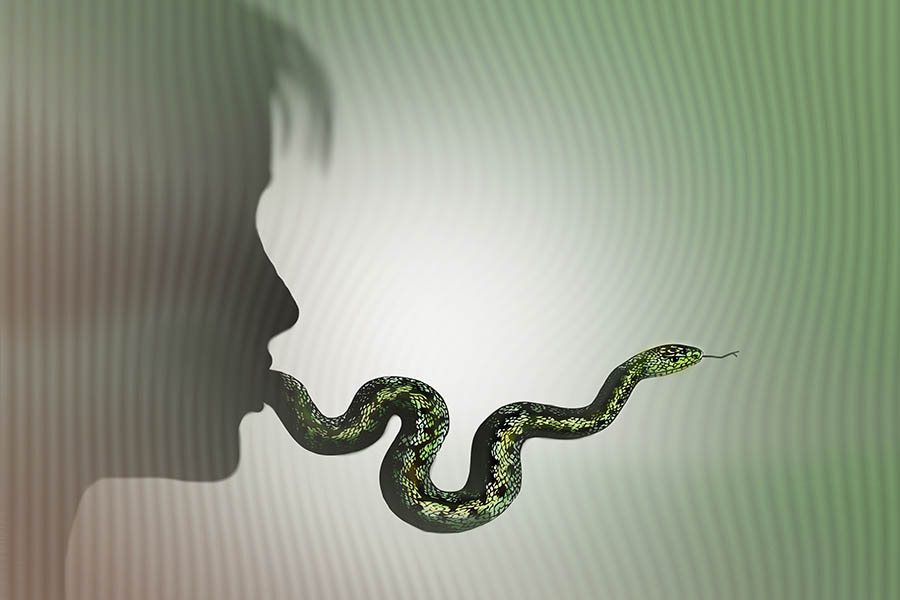 3.  They're not nice to others
Don't get us wrong, toxic people can be very charming. But only when it serves them. If you're useful to them or they want something from you, they may be lovely, flattering even. Their attentions can seem heady and overwhelming. But it's all a show.
The clearest way to get a sense of someone's real character is to watch how they treat others, especially people who aren't useful to them, and never will be.
If you want to find out whether someone may be toxic or not, just observe their relationships with people who mean nothing to them, and watch how polite, kind or thoughtful they are (or not). It's a good measure of how they may one day treat you if you cease to be useful!
4.  They're always the victim
Some people always have someone else to blame for their problems:
They didn't meet their deadline because their manager didn't remind them about it.
They're hungover today because they worked too late on your project to eat.
They missed the early morning meeting because their wife forgot to set their alarm.
They didn't book a doctor's appointment because you didn't give them the number.
They missed a promotion because their mum didn't insist they take French A'Level.
Bad things and unavoidable accidents happen to all of us sometimes – that's life. But some people are happy blaming everyone else for their problems, including those they should take personal responsibility for. So the chances are, whatever happens to them it will be someone else's fault – including yours.
5. They need to be right
Toxic people are so thin-skinned that they can't stand the thought they might ever be wrong. It doesn't matter how tiny the issue, they'll argue their point of view until you give up out of exhaustion. What you may think, feel or believe (or in fact what IS the truth) doesn't matter.
Their need to be right trumps common sense, truth and even normal social bounds. They'll pursue an issue until it's conceded that they are in fact right. They'll even happily take their fight to the legal system, incurring huge costs and a waste of time, often over very trivial matters – even suing neighbours over inches of land or the height of boundary hedges.
So if you ever cross or publicly doubt a toxic person, be prepared for a fight. They're determined, bitter and underhand adversaries. And in their quest to be seen as right, they're happy to lie, fabricate and misdirect.